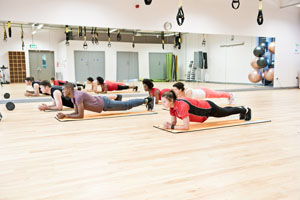 Save money, receive at least 10% off the cost of prepaid Health & Fitness membership.
Enjoy a free trial day via your employer at a centre of your choice.
There are over 150 Better leisure centres across London and the UK.
Fully-equipped gyms, numerous exercise classes, swimming, racquets sports, outdoor sports and more.
We'll work out a personal fitness programme for you for inside and outside the gym, and regularly review it to help you stay on track. 
You can book classes online up to six days in advance.
Many members enjoy going with colleagues to exercise classes or workouts. Many centres also have cafes or other social facilities where you can unwind.
Many centres have crèches, and your membership includes a free two-hour crèche session for a child once a week.
Hire one of our many meeting rooms and conference facilites at a discounted rate.
You'll have access to exclusive healthy living, travel and entertainment discounts and other offers.
Develop your skills or enjoy an new after work hobby thanks to our many lessons.
Maintain work/life balance and stay healthier and fitter.
We are here to benefit the wider community. We're fully inclusive – we welcome all ages and abilities, so you can bring the whole family along.
For more information, or to speak to our dedicated corporate membership team please contact us using the form.
We work with a number of pre-selected nation-wide companies to offer their staff a discounted rate on our Better Health and Fitness membership across the Better Leisure Network.
See if your company is selected, so you can redeem a great rate on our Better Health and Fitness memberships.