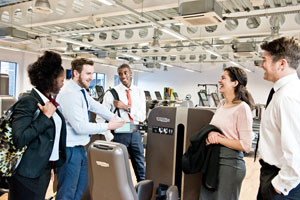 There's no doubt that a fitter, healthier workforce brings all kind of benefits to any organisation – especially when you look at what time off costs:
In the UK, 131 million working days were lost due to sickness in 2013.
Time off from illness costs the British economy over £100 billion annually.
That works out as £595 per employee per year.*
Now the good news:
An engaged workforce is estimated to be 18% more productive and 12% more profitable. People estimate they're 23% more productive on days when they exercise.**
72% of participants reported improvements in time management at work on days they exercised, 74% said they managed their workload better, and 79% said their mental and interpersonal performance was better.***
It makes sense, doesn't it? If your employees are more active then they work harder and more productively, and also feel happier and more in tune with their colleagues. It also makes it easier to recruit and retain staff if they have access to corporate fitness packages and know that you, as an employer care about their wellbeing.